Asheville's Professional Massage and Day Spa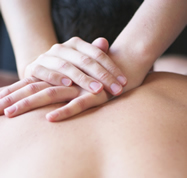 Massage therapy has been used for centuries as a therapeutic means to achieve full relaxation and promote natural healing and overall wellness. Our clients find it to be a critical part of their lives not just because of the "feel-good" factor. We offer professional services at reasonable rates in a comfortable, friendly, and non-toxic environment.
Licensed Professionals
Massages performed by licensed NC massage and bodywork therapists. We honestly feel that we have the most experienced, knowledgeable, and enthusiastic therapists in Western North Carolina. We encourage you to come in and visit with us. See why so many people keep coming back for our gifted therapists and our community-minded owners!
Integrative massage sessions can include: